Race the Legend!
June 28, 2013
Photos of this year's KSR are now posted!
The Stage 3 communique is now posted here.
The Stage 2 communique is now posted here.
As a result of being able to more quickly complete the ITT tomorrow, and in an effort to allow you to start your trip home early in the day, we have scheduled 3 awards presentations.  Please note we are advancing the start of each awards presentation by 30 minutes from the time contained in the KSR Technical Manual. All awards will be presented at the Killington Library which is located on River Road near the time trial finish.  We plan to hold them outside at the back of the library.

Here is the schedule for the awards:

11:00am for Citizens, Men 4, Men 4/5, Women 3/4.
 
12:00pm for Men 50, Men 3, Women 1/2
 
2:00pm for Men 40, Men 2, Men P/1.
The top 3 on the stage, K/QoM & Sprint winners and the top 3 on GC must appear for the awards. If you are not occupying one of these places you do not have to appear for the awards presentation as your prize money will be sent to you following the event. For those coming to collect their prize money at their designated awards ceramony please bring idendification with you.

4:00pm - Stage 2 results are now posted here.
Thank you all for taking part today. Yesterday provided some very challenging racing conditions and today did not look any better. After much studying and some contingency planning we decided that we could safely hold the race today. Overall it was a good hard day to race, but much improved over yesterday.
We will be posting the ITT start times as soon as they are avalible. Start times will be individually assigned to each racer based on present placing. Start times may vary from the those posted in the Tech Manual so please be sure to find your start time.
7:30am Update - We plan to run the race today with the first field off at 9:00am. The roads are all free of snow. It does not look like we will get additional significent rain this morning and tempratures are expected to warm into the mid to upper 40s. Please dress warmly.
We are working to set up places for racers to warm-up or abandon if needed. We will have 4 EMS vehicles out with the race which you can flag down if you need assistance. These will include the sprint hot spot at mile 24.5. We will have vehicles at the K/QoM at mile 29.9. Barnard EMS will be in the center of Barnard with an ambulance and they will have their fire station open to warm-up in at mile 31.9. Lots of help at the feedzone where you could get a ride back to the start at mile 34.5. There will be an ambulance at the end of Prosper Road and we are working to have them open the ambulance base at that location at mile 41.7. In West Bridgewater you can stop at Long Trail Brewery or the Brigdewater Store on the corner at mile 47. At mile 55 you will be back to the start at Skyeship. At the finish the base lodge will be open as well as the umbrella bars for warming up. An ambulance will also be present. It is presently windy at the finish so please do not spend too much time hanging out after the race.
5:10am
We are evaluating the weather and road conditions. At present we are still planning to run today's stage 2. We will update this page if the situation changes.
If you do not plan to race today because of the weather but would be willing to help allow your teammates and friends to race, we are hoping to put additional vehicles out with each field to collect riders on the course who are unable to continue. Please come to the start if you are able to help and see Peter & Nicole at the driver check-in tent near the Skyeship sign.
I will be checking with officials to allow anyone who does not race today to race the ITT tomorrow. Any racer making this choice would be out of the GC/sprint & K/QoM competitions but would get a chance to demonstrate their time trialing skills. We willl announce this at the start, via email and on this page once an answer is obtained. If you make this choice please do consider responding to the help request above.
Results for Stage 1 are posted here. Results do not become final until one hour prior to your start. If you see an error or feel you should be allowed to race tomorrow because of hypothermia please come early and file your protest with the officials.
Stage 1 Communique is posted here.
The Tech Guide is now posted.
We will not be offering a Gran Fondo on Sunday as planned because of insufficent interest. If you want to ride a great Gran Fondo registration will open soon for the Green Mountain Stage Race which will have a Gran Fondo.
If you would like to be included on the KSR email list you can sign up for updates in the box to the right.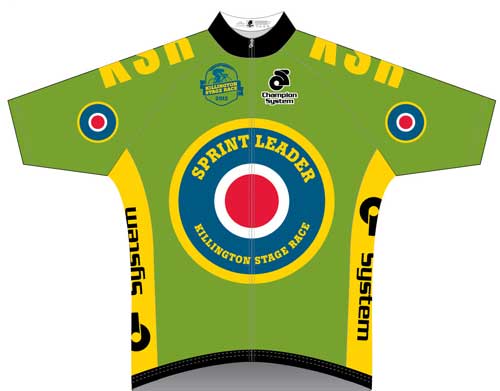 The 2013 Champion System Sprint Leader Jersey with targets on the front and back!
We have made some exciting changes for 2013. We have moved the Champion System Road Race to Stage 2 with the Stage 3 ITT deciding the final GC for this year. We have also added in a Gran Fondo for the road race stage and a citizen's event during the circuit race. This will give more people the chance to experiance the most exciting stages of the KSR. For the Men P/1 and 2 we have added an additional 15 mile loop to the road race course. These fields will have a second climb up North Road as part of this loop.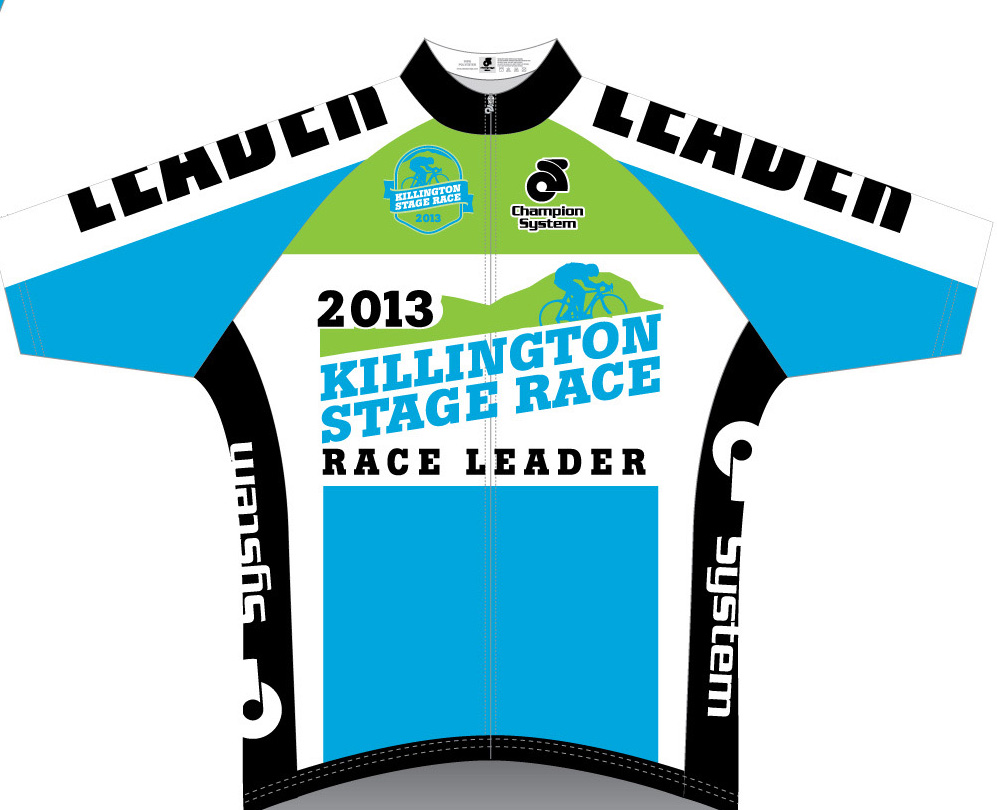 2013 Leader Jersey made by our friends at Champion System
We are looking forward to a great event once again in 2013 with some fresh pavement and improved bridges along with a few other changes will make for a fantastic race. You can checkout all the info about the 2012 edition below.
The Killington Economic Development & Tourism Board is our title sponsor and they are very excited to be breathing new life into this great event!